Friday, November 11, 2022
Emani Brinkman's undergraduate studies were a bit of a smorgasbord. She double majored in economics and business administration, minored in religion, and got a concentration in environmental studies. She jokes that it was the "I-don't-know-what-I-want-do!" combo platter, but now as a Master's student in Urban and Regional Planning, she realizes it was evidence of her desire to blend many interests under one job area.
Bringing multiple interests under one umbrella
"I love that urban planning brings a lot of my interests into one career," says the native of Sycamore, IL, who adds: "Planning requires an interdisciplinary and collaborative approach." With a concentration in housing and community development, her studies at the University of Iowa have allowed her expand her understanding and expertise in professional writing, design methodologies, economics, and legal knowledge—to name a few.
Brinkman is especially excited about the yearlong project she is part of via IISC. In conjunction with IISC's 2022-23 full partnership with the city of Clinton, Brinkman's capstone project is to create a master plan for a piece of undeveloped land in the eastern Iowa community. Dubbed Liberty Square, the space is located between a processing plant and a highway and is relatively close to residential areas. Working with six other students, all of whom are either Masters students in Urban and Regional Planning or Sustainable Development, Brinkman says the project provides challenges that very much echo the research and coursework she's done. For starters, Liberty Square is a former EPA-designated brownfield, meaning that it comes with environmental factors and issues of public perception.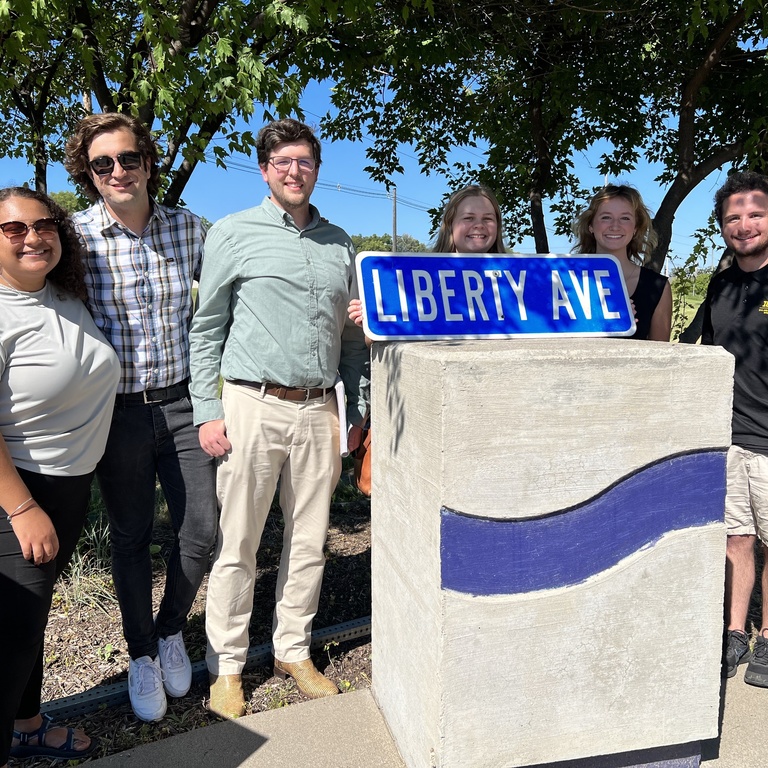 Brinkman and her fellow teammates will provide analysis, conceptual layouts, and recommendations for future growth and development of Liberty Square. It is vital to have community input, so she's been onsite collecting opinions and ideas about the area's future. "We spent about eight hours in Clinton last weekend," she says. "We had tables up at a kids' basketball event and a HyVee in order to talk to people about the area and get their ideas and feedback."
IISC offers invaluable hands-on learning
By the end of the academic year, Brinkman and her teammates will present the Liberty Square Master Plan to the Clinton's city council. It will include community and economic development initiatives and goals for the city, while taking into account physical considerations such as transportation planning and infrastructure, pedestrian and bicycle amenities, utility infrastructure, water management, open space, biodiversity, and more. Key to the plan's success is aligning future plans for the space with the community character--which means input and endorsement from the public.
Brinkman loves the hands-on opportunity this IISC project has provided her. Still, she admits that explaining her current educational path to friends and family is not always easy: "Planning is hard to describe because it's so complicated." In fact, she recently discovered that several friends thought she was training to be an events planner. Brinkman looks forward to becoming a city planner in the Midwest, where she is ready to put her rich collection of interests and skills to work for communities—starting with Clinton.