Muralist got her start with IISC
Tuesday, September 5, 2023
Five Questions with Ali Hval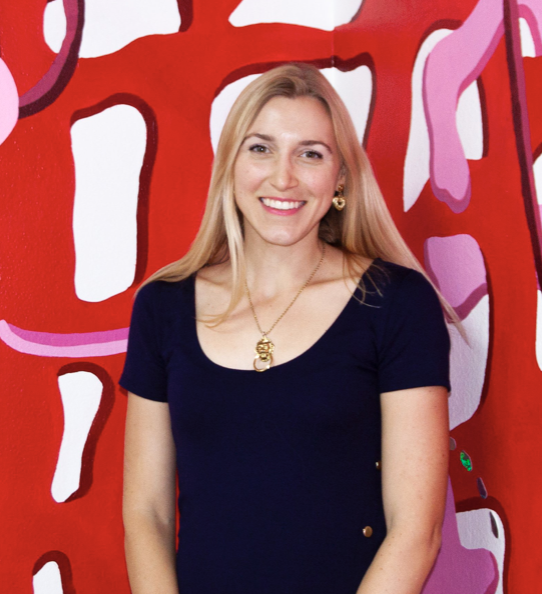 In 2019, Ali Hval received her MFA in painting and drawing from the University of Iowa's School of Art and Art History. While she was a graduate student, she began painting murals for some of the Initiative for Sustainable Communities' (IISC) partners, including Clinton and Mason City. Today, she works as a public muralist with contracts across the country.
Q: How did you get involved in murals?
A: A friend of mine was set to paint a mural for IISC in Clinton and had to drop out of the project for personal reasons. She asked if I wanted to do it. I hesitated because I'd never painted a mural, but it was my first summer as a graduate student and I needed the money to tide me over until my next semester of teaching. Beginning the mural, I honestly didn't really know what I was doing. I used exterior house paint that wouldn't be my first choice now—though I'm happy to hear it's holding up well. And what then took me two weeks would now take closer to two days. But, we all need to start somewhere!
Q: What have you discovered about Iowa from painting murals around the state?
A: I have completed more than 40 public murals around the country, though the majority are in Iowa. I've experienced "Iowa Nice" to be a real thing. In Clinton, the mayor drove me around and gave me a tour of the city after finishing a project there. While painting, people stop to chat and bring you cold drinks and snacks. In Webster City, the mayor had a dinner party for me, and personally installed the panels with a lift. If I'm painting in a big city, these things don't happen—you just show up and do your job.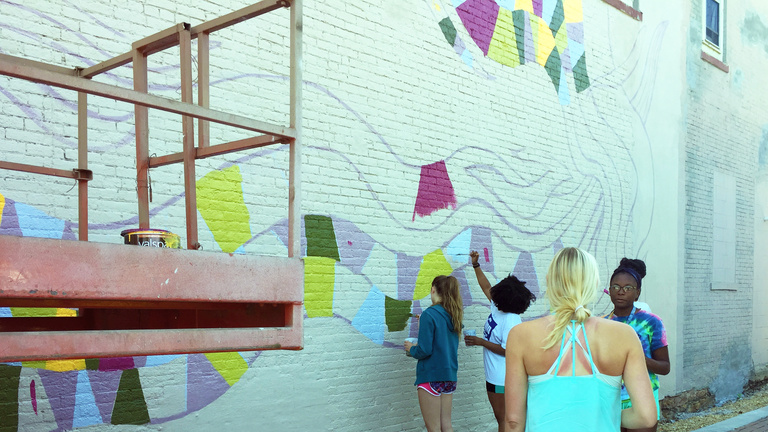 Q: What's your favorite kind of project?
A: I really enjoy the projects where community members help paint. I trace the images, number them, and mix the paint, so it becomes a giant paint-by-number activity. There's always a wide range of people who come to work on it, so I get to know a cross-section of the community. Often there are one or two very detail-oriented people who stick with me through most of the process, which is a big help.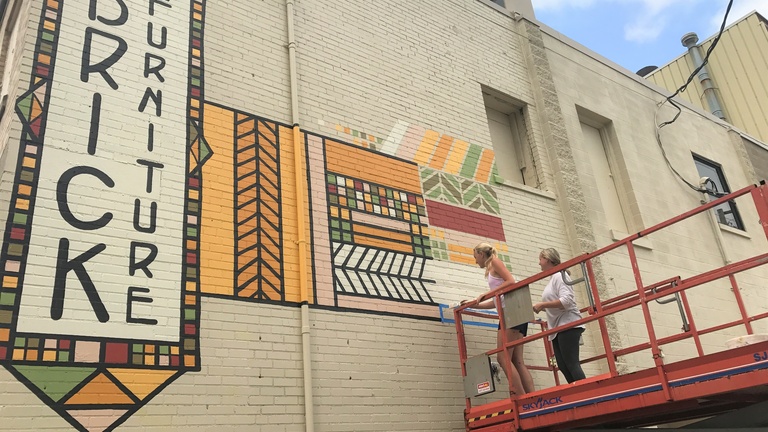 Q: How has your mural work affected your own art?
A: I do multimedia installations that merge ceramics, fabric, and painting. I'm very interested in how the female body and femininity are depicted and cultural expectations of how to "properly" be a woman. Since making murals, I'm more interested in space and the specificity of a site where I'm doing an installation. Attention to the site is really important with murals, and now I think about this much harder with my fine art exhibitions as well.
Q: What's true for you today that wasn't true before you began that first IISC-sponsored mural?
A: Now, when people ask what I do I tell them that I'm a professor of art [Ali is on the faculty of the UI's School of Art and Art History] and a muralist. The latter is really my main career, which is something I never could have foreseen!
Top photo by Michael Rodgers, The Gadsen Times. All other photos by IISC.