Tuesday, January 24, 2023
In June Clinton will host Tailgate N'Tallboys, a music festival featuring performers Tim McGraw, Jake Owen, and others. The three-day event starts June 8 and is expected to attract as many as 18,000 visitors. In preparation, the City asked students from the University of Iowa's Iowa Initiative for Sustainable Communities (IISC) program to design plans to update Riverview Park, the festival's site.
Requested expansions
The 65-acre park overlooks the Mississippi River and is home to a large outdoor swimming pool, campsites, bike paths, the LumberKings' baseball field, and an iconic fountain. The city asked the student team to explore ways to expand the space available for festivals like Tailgate N'Tallboys, provide more shade, create a new bathroom facility, and design an event rental facility.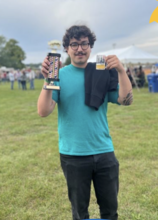 As their capstone project in Civil and Environmental Engineering, Riley Cranston, Jessie McElwain, Kristine Eischeid, and Rod Knutson, spent Fall 2022 exploring options to address these requests. They kicked off the process with a visit to the park during the Bacon and Brew Fest. Knutson even won the bacon eating contest! Each member focused on a different aspect of the redesign—Cranston on trail design and art installation, Eischeid on temporary staging locations and a parking lot redesign, Knutson on the restroom and storm shelter, and McElwain on the Lubbers Fountain, which is suffering from erosion.
Joshua Eggers, Clinton's Director of Parks and Recreation, was their onsite partner. He says that this summer's festival is a unique opportunity for the city to shine. "The high profile entertainment will drive people to come to Clinton, many perhaps for the first time, and they will get to experience all we have to offer."
Learning to listen to client needs
Eggers was especially pleased with the students' design for an outdoor wedding and reception space, which includes shade sails to protect from the sun and more hardscape surface to allow for dancing. They also designed a bathroom that can double as a storm shelter and is located close to the bandshell and reception area.
Although the team's plans won't be completed in time for this summer's Festival, Eggers hopes to pursue grant opportunities and other funding sources to bring them to fruition. First up, will likely be renovation to Lubbers Fountain. "Their research into erosion control and materials will prove useful," notes Eggers. Team members, meanwhile, appreciated the exceptional opportunity to create work for a real world client, an important experience as they each begin careers in the engineering field.
"Projects like this help our students understand that while engineering expertise is important, it is only half of the design process," says Rick Fosse, a faculty member in Civil and Environmental Engineering who teaches classes on design, project management, leadership, resilient infrastructure and emergency response. "For a project to be successful, engineers need to listen carefully to the client's desires and develop creative solutions that have a path to reality. That's what makes a client happy."
See the plans, report, slides, and poster produced by the group.