IISC students' plans provided design direction
Wednesday, September 13, 2023
Manchester embraces its location on the Maquoketa River. Rivers can be difficult natural elements for cities to contend with, bringing flooding and the hazards of agricultural or industrial runoff. But this small city, located midway between Waterloo and Dubuque, is attracting new visitors by celebrating the river as a vital resource and appealing attraction. 
Park opens two years after students complete plans
During the 2020-2021 academic year, the University of Iowa's Initiative for Sustainable Communities (IISC) partnered with Manchester to complete 16 projects. One of these was a project undertaken by four Civil and Environmental Engineering (CEE) students for improvement to Shelly Park, which sits directly on the Maquoketa River. This summer, their plans were realized when the newly renovated park was officially reopened.
For their senior capstone project, the team of Natalie Wirtz, Jason Hua, Bruce Liu, and Alec Nelson created plans that included ADA compliant pedestrian access in and around the park, replacement of crumbling retaining walls, and stabilization of steep slopes. They also wanted to allow for more open space for visitors to gather. While Shelly Park is not large, it is centrally located and connects downtown Manchester with the whitewater park it opened in 2015.
Designing good bones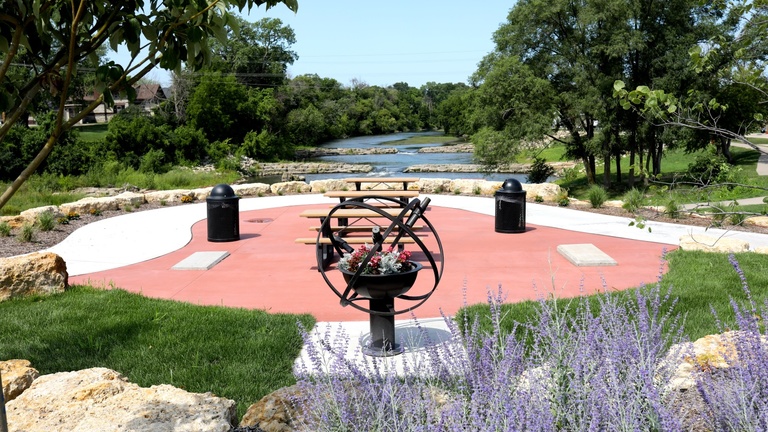 Iowa's largest constructed whitewater paddling course features six 18-inch drops over a span of 800 feet. It was made possible by removal of a dam following floods in 2008 and 2010. Not only has the dam's removal allowed fish to travel upstream and removed sediment from the water, it has also encouraged greater public use use of the river.
Rick Fosse, a faculty member in CEE who oversaw the students' work, says they did an excellent job of designing "the bones of the project." He notes some of the project's inherent challenges included balancing the steep topography with sensitive flood plain levels.
"There is a lot of grade differentiation from the riverside trail to the street level," says Fosse, "that made ADA compliance difficult. The students had to design a layout for the trail that works well with the function of the park. They were also focused on preserving and capitalizing on the views from the park."
IISC's work makes city grant-ready
Manchester's City Manager Tim Vick says the preliminary designs and cost estimates provided by IISC's students allowed the city to begin researching and applying for grants. "This really helped us get an edge on obtaining the grant we received to help pay for the project."
By securing a Community Development Block Grant of $342,062, the city was able to move quickly with the relatively ambitious project, which was completed this summer.  The final design, created by Align Architecture and Planning in Waterloo, followed the students' preliminary concepts and added other design elements. The park, says City Parks and Rec Director Doug Foley, offers visitors and residents alike a spot from which to view swimmers, kayakers, and tubers on the river: "It's that centralized hub where everyone can go and be in the heart of what's going on downtown."